Seasonal Arts & Crafts Fair at the striking venue of Cresswell Pele Tower and its gardens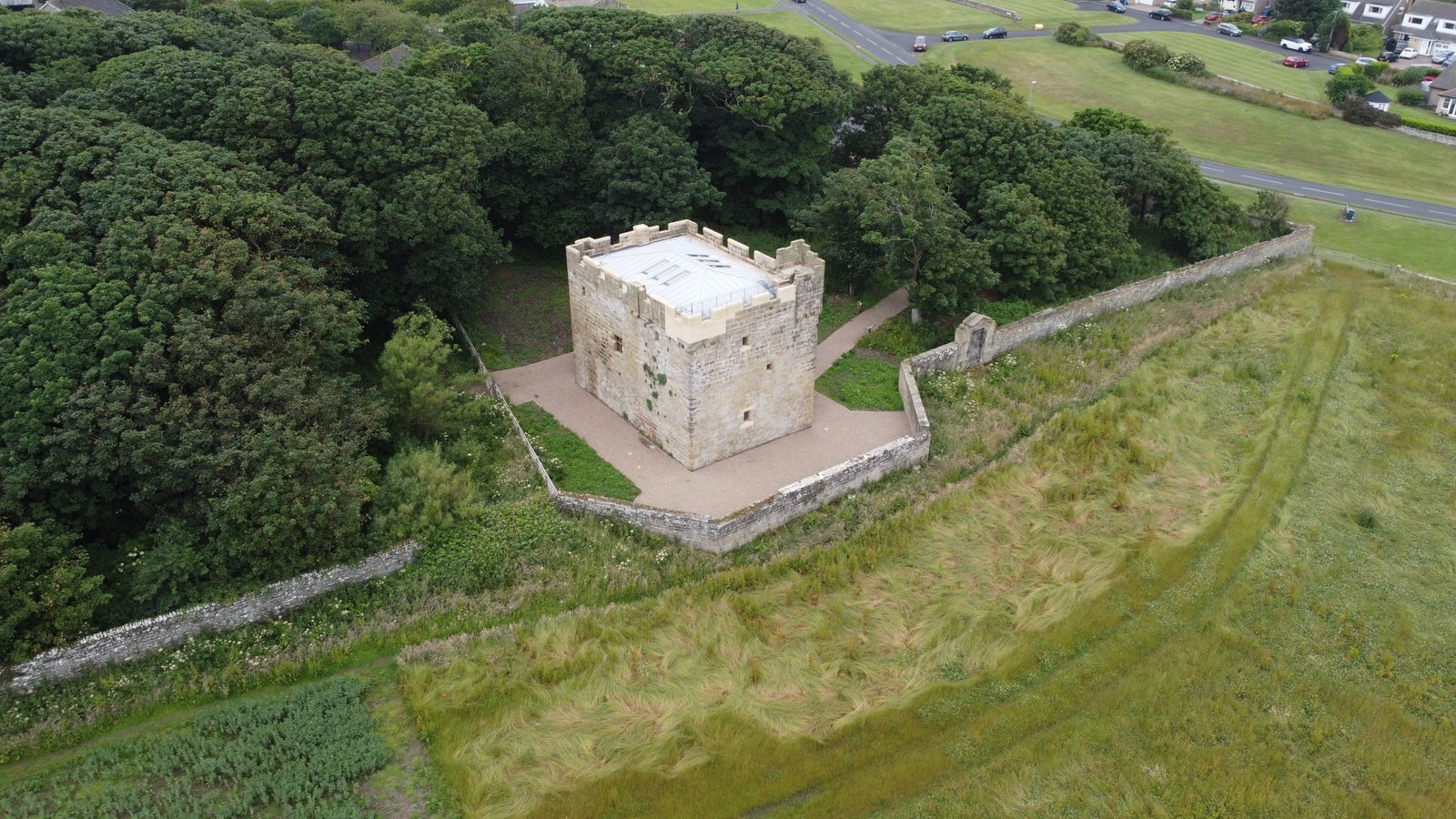 The village of Cresswell, a popular tourist destination, sits at the southern end of the magnificent curve of Druridge Bay in Northumberland. The impressive sandstone tower dominates the little village.
Pele towers were built between 1350 and 1600 and were basically miniature castles built as a defensible retreat against attacks from the Border Reivers, raiders and robbers from either side of the Scottish border. At a time when the rest of England was generally a peaceful and prosperous place, the border folk needed the thick-walled bastle houses and pele towers simply to survive. Cresswell Pele Tower is a well preserved example, one of only two in preservation and open to the public, thanks to recent excavations and an extensive renovation by Cresswell Pele Tower Trust.
---
High quality, unmissable selling fair and show of Northern and Borders Artists and Makers.
Artworks for life, to treasure, to love.
NE61 5JU
FREE ENTRY
---
INAUGURAL WEEKEND - 4th & 5th November 2023
10am -4pm
---
CATALOGUE OF EXHIBITORS
CHRISTINE CAVE, painter
Christine is a North East artist working predominantly in soft pastel however her work in acrylics and mixed media are as equally inspiring and depict the North East landscape, seascape and flora at its best. Her work s often a close up of those spaces that may go unnoticed or considered ordinary.

Christine is inspired by local landscape, the changing seasons and the time of day. She uses pastels and paints to capture the ways in which colour and light transform the everyday view into something beautiful. She is fascinated with the way in which colours sit together, pushing forward and pulling back, altering atmosphere, understanding and the way in which we view the world.

Christine has a lifelong passion for painting and creating, having taught for over twenty years she is now fully focused upon her art and sharing her passion with others. You can create with Christine through her workshop opportunities tuition and demonstrations at her studio in Washington,Tyne & Wear and at venues across the North East.
SARAH PIPER, sculptor, ceramicist
Each of Sarah's pieces capture a moment of calmness and strength; a life caught in the midst of its journey. They contain memories of discarded objects on the seashore and the dynamism of the weather-shaped coastline. Her work speaks of the contrasts of a very human experience - quiet with chaos, fragility with resilience
JULIE BROWN-KING, ceramicist
Here in the north east we are blessed with breath-taking landscapes and the most beautiful beaches in the land. My ceramic artwork is inspired by nature and all things beautiful.
I have work from my studio in Gateshead and I like to experiment with different textures and surface decoration which is a subtle reflection of the flora and wildlife around us. Using natural oxides to replicate elements such as textures and colour variations of rocks to create sculptural work. My burnished Raku work reflects the smooth surface of pebbles and the pattern of varying landscapes around us.
My pieces range from work on the wheel, hand constructed items in earthenware, stoneware, raku and occasionally smoke firing methods. I love the different intensity of colours and glaze effects the firing methods produce. The sculptural work is hand built giving each piece a unique character and presence of the subject it represents.
I find that clay is a wonderfully versatile material that also has therapeutic qualities. I love the fact that you can start with a lump of clay and eventually end up with something beautiful.
MICHELLE JOHNSON, jeweller
Michelle Johnson is a North East based artist, jewellery designer and teacher.
Michelle works primarily in silver plus some gold, copper and brass. Using traditional silver smithing skills she sets semi-precious stones into her designs heavily influenced by her natural surroundings.
LOTTY THOMPSON, painter
Lotty Thompson is a Northumberland artist and teacher, aesthetically and emotionally inspired by the coast and local landscape. She is fascinated by the geology of the Northumbrian coast and rugged cliffs, and will often be fossil hunting, if she's not sketching and painting on the beach.
Lotty primarily works in watercolour and ink but she experiments with mixed media on her larger landscapes, finding charcoal and ink an expressive medium to convey the cliffs and geological formations.
She also believes in affordable art for all and creates beautiful one- off paintings on sanded and varnished wood blocks, of local landscape and various sea creatures. The painted wooden blocks are stand alone and make beautiful gifts or adornments for home interiors.
Lotty and her children lived on an old wooden sailing boat for three years, sailing the Mediterranean, and this has provided her with much inspiration and a continued fascination with the life aquatic.
She also makes stunning decoupage sea shells to be used as ornaments or trinket dishes: these are affordable and unique as no two shells are the same. She sells sea shells by the sea shore …
Lotty's work can be found at the Coquetdale art gallery in Rothbury, Serendipity at Berwick Upon Tweed, the Drift Cafe, Cresswell and various art fairs across Northumberland. She is also on Etsy at ArtByLotty.
ALISON TUTCHER, milliner
I like making hats for wearing. Sometimes an everyday weather beater is just as fun a project as an elegant wedding hat can be and, chances are, it'll come out of the cupboard a hundred times more. For thirty years now I've been honing my skills and sharpening my eyes, and I still love the challenge of something new.
EILEEN HEYWOOD, painter
Using different mediums, I like to create landscape paintings with light and a sense of place. In my life drawings, I hope to create a sensitive feeling of the human form.
FOUR CATS TO FEED
Four Cats To Feed are three artists working together to produce cushions, bags, wooden boxes, golf club ducks, decorated bottles, resin plaques and other unique quirky gifts.
RUTH BOND, painter
Born in Zambia, raised there and in Northumberland, Ruth trained in fashion and built an award-winning interior designer business in Newcastle. Having worked and travelled in many countries across the globe, absorbing cultures, colours and the beauty of the natural world, she now works happily in her studio in Newcastle Arts Centre painting in oils, always from experience of the countryside she loves – the Northumbrian coast, and the very special Outer Hebrides.
Ruth's instinctive response to the rich colours in the Hebrides, in the landscapes and echoed in the traditional island tweeds, produced a profound effect on her work. Each painting in this collection is based on a particular Harris Tweed swatch, the starting point limiting the paint pallet mixed from just these colours. As a result, her landscapes resemble not just the purple, peaty rivers, vibrant turquoise of the seas, blindingly white beaches, and heathery moors but also the natural ingredients that went into dying the yarns. Her joy in being there as often as she can, expressed in her paintings, has made her work much loved and sought after. Her paintings are now collected world-wide, and during the pandemic she produced her first book – a sell-out – The Outer Hebrides Captured.
Predominantly working in oils, Ruth employs a technique that uses both palette knife and brush resulting in the richly textured, vibrant style for which she has become renowned. She is now running workshops for art groups across the county.
ANNA COILS, drawing
Growing up in rural Northumberland, Anna has always had a passion for the county's wildlife, which she uses as the subject of her artwork. Anna uses pen and ink mark making to create detailed drawings of local wildlife, where possible drawing from her own photography.
JEANETTE LANDER, textiles & mixed media
Jeanette Lander makes evocative pieces using textile and mixed media. Her work captures the spirit and atmosphere of the beautiful Hills and Coastline of Northumberland.
She is inspired by the light and spacious skies of Northumberland; her studio overlooks the Cheviot Hills which, throughout the changing seasons, provide a never ending source of material. She uses fabrics, paper and dried flowers from her garden to create collages which capture the essence of this beautiful part of the world. Jeanette has exhibited at the 3D2D events at the Edinburgh Festival and is a member of Serendipity in Berwick.
DIANE STEWARDSON, jeweller
Diane makes a range of jewellery using sea glass found on the beaches of the North East coast. Each piece is unique as the glass has been transformed by the ebb and flow of the tide over many years.
Diane also makes a range of contemporary sterling silver jewellery.
IRIS HOUGHTON, glassware - fused
I create unique hand crafted fused glass which is influenced by the coast and countryside of Northumberland, Yorkshire and Cumbria.
DAVE FOOTE, furniture maker, unique musical accessories
Dave has been creative with wood for over 25 years. About eight years ago he took on a commission to make a guitar stand.
The range has grown and now includes stands for many sizes and shapes of stringed instruments as well as the more esoteric – bagpipes, harps and saxaphones for example! His primary aim is to combine elegant forms and curves in ways that look simple and are both pleasing and functional. In addition to stands for instruments there is a complementary range of music stands, and also portable versions of all stand varieties.
Dave works with native British hardwoods using local sources where possible. In some cases this means timber from a known single tree.
LUCA SERRA, sculptor
Sculptor Luca Serra is originally from Sardinia, but has lived and worked in Northumberland for over 20 years. Using a wide range of wood, he carves his wooden sculptures entirely by hand. Starting with a naturally-felled tree, he then works from the bark inwards, to discover the hidden shapes within. Luca's work in inspired by his love of music and of nature. Most of his pieces reflect these two elements which are very important to him. He says the size and scale of his work can vary, depending on a customer's requirements. "While I work mainly to create individual pieces, I also accept private commissions from bespoke pieces to organisations looking for larger artworks."
MARTIN ELLIS, photographer
My photography comes from my love of Northumberland and the North East of England, the landscape and the people I meet there. I love the Cheviots and Upper Coquetdale in particular, the landscape here can seem vast and bleak, utterly beautiful.
It was here where my photography really started, hiking into the hills, exploring the landscape and its rich history. I began using digital cameras, but after taking many photos, especially at shows and sporting events, I felt the need to slow down a bit.
I dusted down my old 35mm camera and immersed myself in film photography. I still use my digital cameras, but I also really enjoy going back to basics with a pinhole camera.
GILLIAN SWAILE, printmaker
I am an artist & printmaker living in rural Northumberland. I am predominantly a printmaker, mainly producing linocuts, but also monotypes, screen prints and cyanotypes. I illustrated a book of short stories, published last year. I am inspired by living in a designated "dark skies" area, and by the nature that surrounds me in Northumberland National Park.
ADELE BURDON, printmaker
I enjoy exploring the endless possibilities of Monotype printing using a variety of techniques, textures and eclectic items, constantly experimenting and tinkering with the plate until an image reveals itself.
Unexpected and surprising results are often a bonus, helping to create an atmospheric print which is unrepeatable making each image a one off piece of art.
JANE CHARLES, glassware - blown
I went to art college in the late 70s to do ceramics. This coincided with the arrival of the Studio Glass movement to the UK and the rest as they say is history….I was hooked. I consider myself so lucky to be able to make a living working with this magical material and the medium has held my attention now for over 40 years and I'm not done yet …..still lots to explore and infinite possibilities to play with. I was lucky enough to have worked with some of the masters of glass before setting up my own business in 1987.
If I am not in the studio I can be found either in my garden or out in nature with my man and my greyhounds. The great outdoors is where I find most of my inspiration for my work with the changing shapes, colours, textures and moods of the natural world.
DIANA FITZPATRICK, printmaker
Diana is a printmaker working from her studio at Gallery45 in Felton.
She produces Monoprints designed around her favourite ceramics, incorporating seeds and foliage. Her linoprints are inspired by the Northumberland flora and printed onto handmade and Japanese papers.
Diana also runs workshops from her studio.
THE COFFEE STOP
Tea, Latte, Cappuccino, Hot Chocolate, Luxury Hot Chocolate, Americano, Cold drinks ...
Small bakes, Crisps & Chocolates ...
Pie & Peas.
---
If you are an artist/maker and are interested in exhibiting, please email This email address is being protected from spambots. You need JavaScript enabled to view it. .The provisional dates for 2024 are Easter: 29th-31st March | Arrayed at The Pele Tower: 11th-12th May | Summer: 12th-13th July | Autumn: 1st-2nd November
(NB: 'Arrayed @' in May 2024 is a wearables show for contemporary makers.)